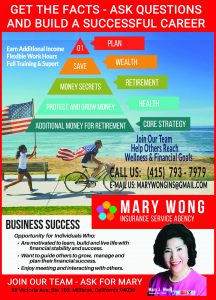 Mary Wong Insurance is hiring. We are actively seeking individuals who are interested in a career in the financial industry.
Mary Wong Insurance encourages team building and that includes mentoring, money management, business management, sales, and marketing.
If you are interested in helping people learn and obtaining a financial education, part-time income, or a potential career change, please join us to learn more about our firm.
We offer: Scheduling Flexibility, Class  Room Training, Success Mentoring, Incentive Awards & Trips, Own Your Own Business.
Our proven system will help you succeed in the business and make good money.
You must pass a background check, be at least 18, and have a clean California driver's license.
Submit your resume including the phone number to schedule your confidential interview, email resume to Business8career@gmail.com.